Access Storage - Kitchener Woodside
891 Guelph St, Kitchener, ON
1ST 4 WEEKS FREE *
Photos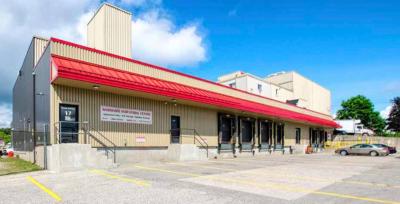 Hours
Office Hours

| | |
| --- | --- |
| Mon-Fri | 9:00am to 5:00pm |
| Sat-Sun | closed |
Access Hours

| | |
| --- | --- |
| Mon-Sun | 6:00am to 12:00am |
About Access Storage - Kitchener Woodside
We are Kitchener's  #1 storage company and have the metal to back it up, winning numerous service awards such as the Consumers Choice Award for the best storage company. No matter what your Kitchener storage needs or how long you will be renting, Access Storage on Victoria St in Kitchener is your perfect storage solution. 

Most of our facilities offer 1st 4 WEEKS FREE or FREE MOVE IN VAN. Call now for details!
Features
Climate Control
Free Moving Truck
Security
Parcel Delivery Acceptance
Drive-in Loading Bay
Packing Supplies
Dollies & Carts Available
Payment Options
Vehicle Storage
Moving Truck
Hours
Office Hours

| | |
| --- | --- |
| Mon-Fri | 9:00am to 5:00pm |
| Sat-Sun | closed |
Access Hours

| | |
| --- | --- |
| Mon-Sun | 6:00am to 12:00am |
Facility Reviews
---
Initially this place seemed perfect, but after returning to my unit on the basement level I was met with damp concrete floors covering the entire level and everything that was made of fabric or wood that was touching the floor of my unit had moulded, I had been living in a furnished apartment temporarily so I used the unit to store my bed and other furniture, which is all now ruined. This wouldn't be nearly as big of an issue of the people who were supposed to help me were even remotely cooperative. Not only were they telling me my stuff wasn't worth as much as it actually was, and they were telling me "you can just wipe the mould off these hard surfaces" they have stopped responding to my emails inquiring about submitting the insurance claim after we took inventory of the damaged goods. I now don't own a bed and have been sleeping on an air mattress for the past month because they have been ignoring me. I can't afford to buy myself a new bed, I really need the money from the claim in order to get a new one.
---
I have never used a storage unit before and didn't know what to expect but thanks to Jackie in the office I was able to get everything figured out and have had a great experience and felt comfortable knowing if there were anything I needed there was someone to help. I would definitely use this service again. Thanks Jackie!!!
---
The staff at the kitchener Access Storage are what we need more of now and days. They are amazing, make you feel very welcome, super friendly and great customer service! I have already recommended this place to a few people and I would recommend it for sure!
---
Cargo elevator not user friendly. Main mandoor difficult to prop open when bringing in a load. Positives: very clean and clutter free. Reasonable rates. Nice staff
---
It was easy to pop in and out, and even easier to extend my rental period when I needed to. Jacqui is super accommodating and the facility was easy to access and use. At the beginning, there was an error in the billing, but Jacqui called me back to apologize and explain within a day to fix it (on a Saturday even!). It can be a little pricey, especially for a student, but I do recommend Access Storage. I've been to 2 different Access Storage facilities now, and both were top notch.